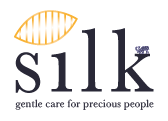 Silk from ELK-Health is a scheme specifically for adults of all ages who would benefit from regular, stimulating contact with more people. It is designed to reduce the likelihood of you, or someone you cherish, developing memory, cognitive or depression difficulties or, if they have done so already, the effects these conditions have on their lives.
Silk is run by qualified, registered counsellors, therapists, mentors, coaches and other health professionals – the team, of course, depends on the situation of each person using the scheme – and provides a choice of group or one-to-one mentoring, in the home or locally – in any combination that suits each individual.
People who use Silk include men and women living alone, older people with and without health issues, those whose work or lifestyle means they can feel isolated, and people with learning or memory difficulties. We call these people 'sages' because we believe that they have wisdom and understanding that the world will be better for receiving. We believe the key to stimulating people is to be interested in them, value the experiences they have had, and investigate what ways they can become engaged with enriching the lives of others.
Our sages are allocated three companions, one of whom, the mentor, is a qualified health professional relevant to any challenges she or he may have. This means the programme can be tailored to specific needs, for example to monitor memory or cognitive function, loneliness, unhappiness, phobias, irritable bowel syndrome, stress issues, repetitive and compulsive behaviours or bouts of depression. So that a trusting relationship can be established, mentors see each sage at least twice a month – often considerably more often. Every sage is, of course, different and unique. Some, but not all, like to be contacted at least once a day. The programme designed for SILK is individual and flexible.
Mentors, who are fully qualified, and other companions, who are usually mature people studying to be counsellors, psychologists or psychotherapists, are all registered with professional bodies, fully insured and supervised.
Silk from ELK-Health provides gentle care and mental stimulation from people whose career choice is to work with concern, patience and skill in scientifically-proven ways.
People who live alone, or who have long periods of isolation, can be vulnerable to loneliness, which can lead to depression, and which, itself, can lead to dementia. Silk is about making people happier than they would be if ELK-Health didn't exist.
Silk works closely with providers of other types of care to ensure the maximum benefit from the scheme.
Making an initial enquiry commits you to nothing, but means that we can let you have more details about our services, availability and costs. Your enquiry is confidential and valued.